The 2019  Annual Harvest of Celestial Church of God, Genesis Global Parish, Alakuko , Ogun State took place on Sunday 15th December 2019 with thousands of worshippers in attendance.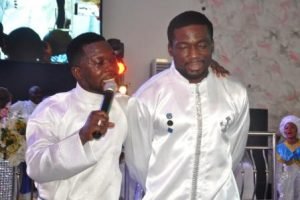 Also , the entire Road where the church is located was filled with sellers of foods, drinks and other products as they made  brisk business.
It was also an ' harvest day'  of such for the commercial motorcyclists plying the area as they also made a lot of money rendering their services.
A well organised event , canopies and chairs were made available outside the church auditorium for those who could not find space in the church auditorium. They were also able to follow the proceedings at the harvest through big screen TV made available at different locations within the church vicinity.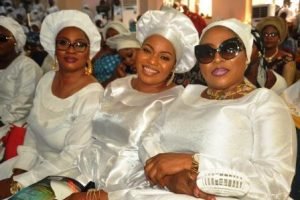 Delivering his sermon at the well attended harvest anniversary,  the Senior Shepherd of the Church, Prophet Israel Oladele Ogundipe first of all gave glory to God for perfecting the holding of the harvest this year .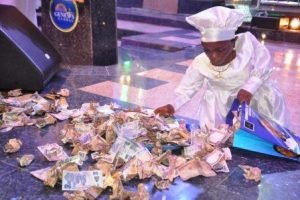 He cited an incident that happened during the 14 vigil that heralded the harvest where God revealed to him that they should pray against any incident which may give the church a bad name from a force outside Genesis Global.
" On Tuesday , 10th December as the vigil was going on and  we were praying against any forces that may give the church a bad name and mar the harvest programme, a member of the church who was outside the auditorium raised an alarm that a young man was about jumping into a well within the church premises and we  rushed out to prevent his jumping into the well. If this  had happened , what would will be saying today. We give all honour and glory to God" , Prophet Ogundipe said.
He gave the name of the young man as Emmanuel Jeremiah from Pastor Tibetan Elisha Parish.
Speaking on harvest, Prophet Ogundipe said when we talk of harvest, we are talking of sowing and reaping, praying that all who have sowing, will reap their harvest.
" Harvest requires planting, watering, cleaning and then reaping", he explained.
He further informed that harvest could be spiritual or physical.
Talking on the period before harvesting, he said one can sow his  resources, he can sow his time and counselled that there is a period of waiting before harvesting and therefore urged Christians  to exercise patience in whatever they are doing.
" Many people can't wait, that is why they move from one place to the other looking for miracles.
On what to do to get harvest, Prophet Ogundipe said first, one needs to sow seed for harvest, one needs to be aggressive about reaping his harvest, he must remove weeds from the harvest and must command harvest to come.
Other things that need to be done for one to reap his harvest  according to the prophet of God is to stop attacking other people's harvest and that one should stop procrastinating as well as guarding one's plant jealously.
He urged the congregation to always pray against harvest devourers and harvest attackers.
The harvest was rounded up with music and dancing as King Wasiu Ayinde Marshal KWAM 1 was at hand to entertain the attendees at the Genesis Global 2019 Harvest.
Dignitaries at the harvest service include ,Deputy Inspector General of Police Operations, DIG Abdulmajid Ali, his personal assistant and former Ogun State Police Public Relations Officer, Muyiwa Adejobi; the Divisional Police Officer, Alagbado Police Division; King Wasiu Ayinde Marshal; Apostolic Mother, Bosede Oshinowo as well as Genesis Global Parish members from the United States and England.