NICArb announces 40th Anniversary , 2019 Annual Conference … proposes Africa adopts a culture of building sustainable Arbitration Institutions in the continent.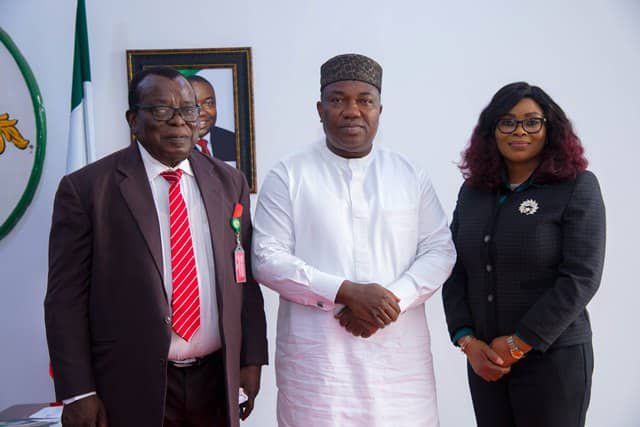 AYO ESAN.
The Nigerian Institute of Chartered Arbitrators (NICArb) held a press conference on Friday, October 25, 2019, to address salient issues around its 40th Anniversary theme, titled, 'Building a Culture of Arbitration and Sustainable Institutions in West Africa'.


The 40th Anniversary Conference and Investiture, which will be held on 14 – 15 November 2019, at the Eko Hotel and Suites, Victoria Island, Lagos, provides a forum for the intellectual discussion of key issues affecting Arbitration in West Africa.
It is focused on yielding practical solutions, necessary to encourage the adoption of Arbitration and Alternative Dispute Resolution (ADR) in the West African sub-region.
The conference promises a line-up of renowned regional and global speakers who are experts in the chosen subject areas and will feature panels made-up of technical experts and breakout sessions for intensive exploration of the chosen subject areas.
Also present at the briefing were Management and members of NICArb's 40th Anniversary and Annual Conference Planning Committee including Mrs. Funmi Obisan, FCArb, Mrs. Clara Umeano FCArb, Mrs. Shola John-Oshodi, FCArb (Registrar/CEO, NICArb), Mrs. Chinyere Onuorah, MCArb (Deputy Registrar NICArb) and Mr. Timi Olagunju (PRO, NICArb).
Mrs. Shola Oshodi-John, the Registrar/CEO of the Institute spoke about Nigeria becoming a Hub for Arbitration and referenced the institutes previous press briefing emphasizing the need for national policies for strengthening Arbitration in Nigeria as well as calling for partners in the Arbitration/ADR space to join forces with the Institute to implement policies that help Arbitration take a foothold in Nigeria.
The briefing ended with a call to the members of the Arbitration (ADR) community and the general public, to take advantage of this first West Africa regional conference in Lagos, Nigeria, in November.
The Nigerian Institute of Chartered Arbitrators is the first indigenous body of professional Arbitrators founded in 1979 under the leadership of His Excellency, Justice Bola Ajibola, SAN, KBE and duly incorporated in 1988 under the Companies Act as a legal entity Limited by Guarantee.
The Institute was formerly known as the "Chartered Institute of Arbitrators Nigeria" and then later became "Nigerian Institute of Chartered Arbitrators" Ltd/Gte. It is a professional body dedicated to promoting, facilitating and determining of disputes by Arbitration, Mediation, Conciliation and other forms of Alternative Dispute Resolution (ADR) mechanisms.
It is forefront in the development of alternatives to litigation in Nigeria. Besides being at the forefront of promoting the knowledge and practice of Arbitration and other dispute resolution alternatives, the Institute has gained reputation as the preferred appointing authority and Arbitration handling Institution for a broad spectrum of commercial disputants.
The Nigerian Institute of Chartered Arbitrators has over 1,500 members drawn from diverse vocational backgrounds including the Academia, Accounting, Construction, Engineering, Judiciary, Legal, Public Service and a host of others.
The Institute has virtually all the greatest jurists of our time as Associates or Fellows. These include former Justices and Judges of the Supreme Court of Nigeria, President Court of Appeal, Chief Judges and Judges of High Courts, Senior Advocates and Retired Judges.