Rufus Giwa Poly crisis : ASUP Chairman, Secretary not part of those ordered to be reabsorbed by Akeredolu.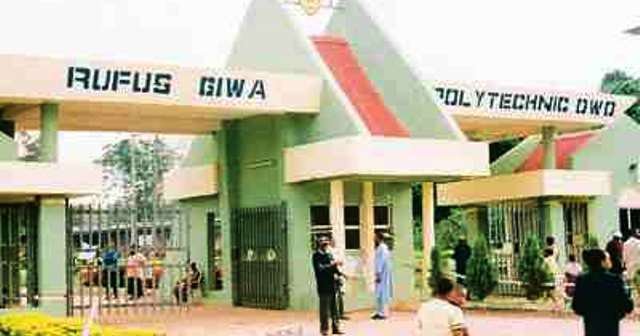 BY : OLAWALE ROTIMI
As part of efforts to nick the current crisis rocking the Rufus Giwa Polytechnic, Owo, Ondo State in the bud , the State Governor , Arakunrin Rotimi Akeredolu few weeks ago directed the institution's management to recall the staff that were earlier sacked .
National Monitor has however been reliably informed that the duo of  Chairman, Comrade Rafiu Ijawoye and the  Secretary, Comrade Ade Arikawe of the chapter's Academic Staff Union of Polytechnic, (ASUP)  are not affected by the directive and have not been recall back to duty
It would be  recalled that the duo alleged the Management/Council of mismanagement of fund, maladministration in the institution and demand for promotions and salary arrears owed members which led to their sack in October, 2019.
When contacted,  Comrade Ijawoye made it known that, they were not part of those to be  reabsorbed.
 "They are those in the staff school", he said.
When asked of their fate, he said they are already in court. "The determination of the court is supreme. So  we are waiting on the court", he said.
In his own reaction, the Secretary of the union (ASUP), Comrade Ade Arikawe stated that their sack was illegal since there was an injunction from the court that the status quo ante  should remain until the determination of the case.
On the EFCC issue, the duo said they heard of invitations of the Council Chairman, Mr. Banji Alabi and some principal officers. They claimed not knowing anything about the case at the EFCC.
"What is our own with EFCC, anybody could have taken it there. The issue is not hidden now, everything is in the public domain. I even saw one on the Facebook, but it is good for the system"
On those recalled, Arikawe said: "it is a good gesture from the man of the people, the  Ondo State Governor, Arakunrin Rotimi Akeredolu. The  Governor wants the best for the institution but our people will always thwart his efforts. They give him false information to the Governor to their advantage which is very u fair. I learnt the staff members rejected the offer. The Management/Council  should do the needful. They know what to do. They should be recalled back into the polytechnic which is their mainstream. I learnt they are in court too. This regime in the institution, has so many cases in court, can you imagine".
It  would be recalled that the management/ Council Chairman,  Mr. Banji Alabi along other principal officers are being investigated over alleged  mismanagement of fund ranging from the purchase of cars without due process and transfer of money to accounts running into millions of naira by the Economic and Financial Crimes Commission (EFCC).
It was gathered that after several visits to the EFCC, it is becoming clear to the  management/ council that they have cases to answer and have therefore approached Governor Akeredolu to give them soft landing