He is barely two and half years in office as the Executive Chairman of Orile Agege Local Council Development Area (LCDA).
Hon. Sunday Babatunde's giant strides in administering the LCDA has been applauded by all and the people of the LCDA agree that the Chairman has been doing his best since he got to office in 2017.
The LCDA Chairman speaks on his achievements and other issues in this interview.
How can you describe your tenure as the Chairman of Orile Agege LCDA so far?
It has been a great experience and God has been the one who prepared us for the tasks and He has been our backbone for us to deliver the dividends of democracy. When you have between 60 -70 percent of the residents of the LCDA saying something good about our government, that means we are really on ground.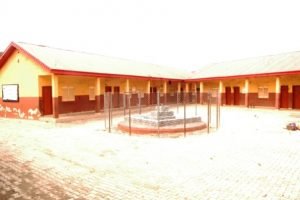 Though, it has been a bit challenging, as someone who's keeping the resources of the people, we have been able to allocate the little resources at our disposal judiciously in such a way that the people could feel our impact.
However, having served as a vice chairman of the council in the past, the experience actually comes to play.
You could see that within 100 days in office, we were able to tar two or three roads that are more than 500 metres. These are Omotoye, and Coker Streets. We were able to get buses for school children, we have been  enjoying the supports  of tradition rulers, Baales", CDCs, CDAs, CAN, Islamic Society and others.
At the same time, we have been empowering people with N100,000 (one hundred thousand naira) each. We discovered that many people in the community needed little amount of money to start businesses. For example, someone just accosted me and thanking me about our administration and I felt elated. At least, she attested to some of the things we have been able to do. When you talk of roads, drainages, walk round Orile Agege and see things for yourself. Go to James Okiki, Okusanya, Ademolu, and Ifeloju Streets, walk around, you would think the Federal Government is the one at work.
About two churches, whose members were no longer attending service because of bad roads started having better attendance after we repaired the roads. They gave me an award because of that, and that's a place that had been abandoned for over 50 years.
What have you done on education?
Zion African Church Primaryry school is now a model on its own. Infact, they have a problem of space now to the extent that many of the parents had to withdraw their wards from private schools and take them to the school. All the classrooms are tiled, we have inter-locking in the compound, we did a water fountain there for the children, that alone can attract children to the school. We don't make use of blackboard and chalk any longer, we use maker board. I told the management of the schools that no student should sit on the floor, that's why we made several chairs and benches for the students.
What of school buses?
We have bought school buses to convey the students to school in the morning, and bring them back in the afternoon. We serve as a model to other local governments in the state. All other local governments are now copying us. Infact, they even pleaded with us to give them our contractors to supply them those buses. While some are partying, and others are doing all sorts of things and relaxing, we are in the corner of our room thinking about how to move the local government and our community forward.
What message do you have for the people?
My message is very simple, since we are in the yuletide season, they should shun violence, and know that security is the duty of everybody. If they see any suspicious movement, they should alert the security agents, they should pay their levies and taxes because that's what we are using for those amenities.
What has been the impact of the Speaker of the Lagos State House of Assembly, Rt. Hon. Mudashiru Obasa on your government since he is from your local council area?
The Speaker of LSHA, Rt. Hon. Mudashiru Obasa is a leader per excellence, he encourages and supports us on the majority of the things we are doing as he is doing with the state. He advises the local government chairmen regularly, he encourages us that we should empower our constituents instead of just giving them money. It's his brain child and we keyed into it, to the glory of God, there is a synergy between the local governments and the state government. His presence is very much felt and meanwhile, there is a healthy competition between Orile Agege LCDA and Agege Local Government, they both want to  surpass one another.
For instance, when the Chairman of Agege LG saw our buses, he was the first person to buy for his council after that.
How did the changing of baton from former governor Akinwunmi Ambode-led government to Governor Babajide Sanwo-Olu affect local government administration in the state in general?
There was no consequential effect in any way. The government of Mr. Babajide Sanwo-Olu is merely six months in office, and we can see the massive road reconstruction that is being carried out despite the neglect of the past government. Corrective measure is a difficult thing to do, therefore, the government needs time, we were threatened by refuse that littered our roads before, but today where are they. Though  we still have some of them around, it is not alarming compared to what we had then.