EFCC intensifies investigation of RUGIPO principal Officers … as Ondo Gov orders them to recall sacked staff …. term of reabsorption, not acceptable – Concerned Citizens of Owo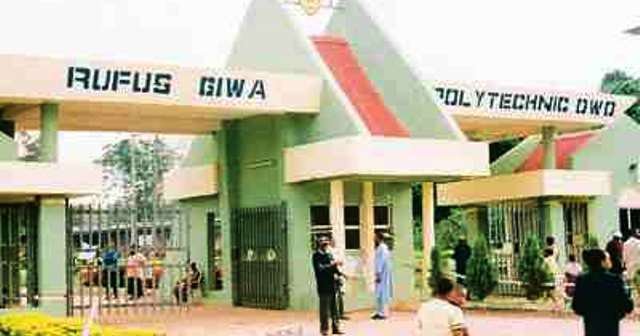 BY : OLAWALE ROTIMI
The Principal Officers of the Rufus Giwa Polytechnic Owo, Ondo State who are currently being investigated by the Economic and Financial Crimes Commission, (EFCC) over alleged financial recklesness are said to be in panic after a recent invitation by the anti – graft agency.
The EFCC recently invited the Chairman, Governing Council of the Institution, Mr. Banji Alabi and the Rector Mr. Gani Ogundahunsi  who were accompanied  by two other principal officers of the institution, the Registrar Mr Sule Atiku and the Bursar , Mr Adejuwon Mathew.
It was gathered that the principal officers had a tough time at the EFCC office as the officers were said to have thoroughly grilled them on the alleged financial recklesness in the Polytechnic.
Also, the Ondo State Governor, Arakunrin Rotimi Akeredolu has  directed the institution to recall the sacked staff of the Institution Staff School who were earlier laid off.
This, they embraced as a way of getting the governor's backing  to get soft landing in their current investigation by the EFCC.
National Monitor learnt that though, the school had recalled the sacked staff but the terms of reinstatement varies with majority been reabsorbed as teachers through The State Teaching Service Commission, TESCOM and those that have link with the  principal Officers were reinstated as Polytechnic Staff earlier on.
Speaking with National Monitor, a group  which styled itself " Concerned Citizens of Owo"  confirmed the development and said they are rejecting  the mode of reabsorption.
" My brother how can they reabsorbed them through TESCOM.
They were employed by the Polytechnic and were on Polytechnic pay roll with the polytechnic salary scale before their disengagement. If you want to reinstate them,  reinstatement means  bringing them back  to where they were before. You need  to bring them back  as Polytechnic staff and  not as  classroom teachers recruited through TESCOM.
" I must also confess that some of their ( principal officers) cronies were earlier reabsorbed as Polytechnic Staff. Why the discrepancies? More so that they have always being included in the institutional budgets. There is no place where government schools have ever broken even, government schools are subsidized, the management don't have any excuse in the first place to disengage them. It is very unfair. The manner of their reabsorption is not acceptable and we want the Governor to note this and take necessary action, the school is in his town". The spokesman of the group informed the National Monitor.