BY AYODELE AJANI
Between November 12th and 14th 2019, the city of Lagos will be hosting manufacturers from China and across the continent of Africa at a Retail Sourcing Fair which will hold at the Federal Palace Hotel, Victoria Island.
The Retail Sourcing Fair which is a one of a kind Fair is being put together by Leoht Africa in conjunction with Atlantic Exhibition.


Leoht Africa which established its office in Lagos in September 2018 and whose main mission is to provide route to market, market penetration and expansion strategies is collaborating with Atlantic Exhibition to bring Manufacturers close to the people of Nigeria and Africans in general.
Speaking at a well – attended media conference in Lagos, the Project Director of Leoht Africa, Bunmi Aliyu said the Retail Sourcing Fair is focussed at establishing a presence for manufacturers in key markets on the continent and attendees from across 12 countries including over 400 Manufacturers, 3,000 trade visitors across the public and private sectors .


" We have long championed new designs and African manufacturers. Now we excited to add Homegrown : Best of Africa pavilion, a new era focussed on manufacturers and with talent for producing extraordinarily products from across East and West Africa including Nigeria, Ethiopia , Ghana among others. This section is aimed at export and intra- African Sourcing .
" The China Brand Show will make its West African debut during the RSF of this year, across a wide variety of industries. This trade – only event will focus exclusively on connecting Nigerian and Chinese businesses, government's bodies and institutions to have in – depth onsite discussions on investments, business and trade opportunities", she said.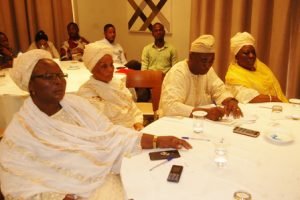 She further said that the China Brand Show will feature over 250 Manufacturers vetted by the Ministry of Commerce of China of
the People's Republic of China , across multiple sectors which will lead to business development with attendees.
Aliyu said the introduction to Nigeria of the China Brand Show which according to her is a platform which has seen huge success in major countries after launching in 2002 in countries such as United States, Australia, Vietnam and major cities such as Los Angeles , Las Vegas , is a major feat for local businesses that are poised to benefit from making unprecedented connections and securing deals with top – rate international manufacturers and investors right on their home turf.


Also speaking at the media conference , the Managing Director of Atlantic Exhibition , Mr Ayo Paul Olugbade said Retail Sourcing Fair is a trade-off only fair focussing exclusively on retail and commercial products for the home, office, gift, manufacturing and textile sectors.
Olugbade said the value for the retailers at the fair is that they are going to get quality products at cheaper rates.


He said the Fair will also afford them the opportunity of interacting with manufacturers directly.
He further said that, " the Retail Sourcing Fair is a platform that will connect local distributors and retailers across West Africa, offering exposure on an unprecedented scale saying it is the most cost – effective way to access the African marketplace .
Olugbade said Nigeria is today experiencing a tremendous shift to a more sophisticated structure as formal or organised retail continues to gain ascendancy .
" As researched by the Global Retail Development Index , Nigeria is the leading retail market in Africa with $125bn of retail sales recorded in 2016 , Nigeria's domestic luxury market is valued at $213m. Wholesale and retail sales.are already the third largest contributors to Nigeria's GDP , contributing 16 per cent", Olugbade said.